ESP8266 ESP-01 WiFi 5V 2 Channel Relay Module Generic
SKU: 2520
---
---
---
---
Share this product:
PRODUCT DESCRIPTION/SPECIFICATIONS
---
PRODUCT DESCRIPTION:
 The ESP8266 WiFi 5V 2 Channel Relay Module IOT Smart Home Remote Control Switch uses ESP-01 as the WiFi module and is compatible with 8 bit MCU chips. Only a simple configuration process can realize the wireless control of the 2 way relay by using the mobile phone APP in the lan. 
FUNCTIONS:
Onboard high performance microprocessor STM8S103 and ESP-01 WiFi modules.
The module has 2 operating modes of work:
 Mode 1: Mobile phone is directly mounted on WiFi module.
 Mode 2: Mobile phones and WiFi modules are equipped on routers simultaneously
 Additional function: It can also be used as USB relay when ESP-01 is pulled out.
Transmission distance: In an open environment, the maximum stable transmission distance is 100M when the mobile phone is mounted on the WiFi module.
When the WiFi module and mobile phone are carried on the router at the same time, the transmission distance depends on the signal strength of the router.
The use of Smartconfig technology in the mobile phone on the APP ESP-01 WiFi module to complete the account and password configuration, configured username and password memory function.
Onboard 5V, 10A//250V AC 10A//30V DC relay, which can be continuously pulled for 100 thousand times, has diode discharge protection, short response time.
Board mode selection and real time working status indicator.
Reserved UART debug interface and STM8 SWIM program download interface.
PIN DETAILS: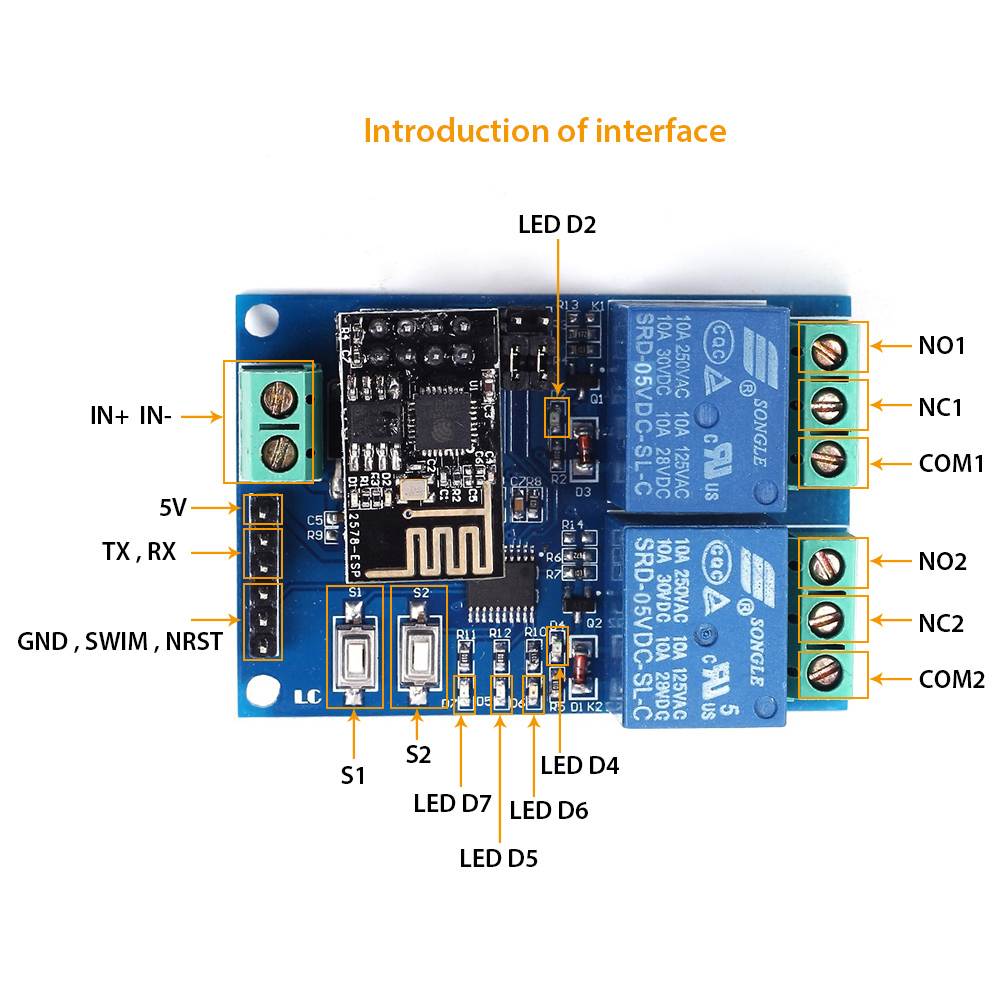 SPECIFICATIONS:
Transmission Distance(m) : 400

Relay Channel : 2

Trigger Voltage (VDC) : 5

Switching Voltage (VAC) : 250@10A

Switching Voltage (VDC) : 30@10A

Baud Rate : 9600

Dimensions : 59 X 40 X 20 mm

Weight : 60 gm
Operating instructions:

Prepare the following tools before use:
5V/1A power adapter and APP "ESP Touch--Demo"
Step 1: The 5V/1A power adapter, the positive and negative poles of the power are connected to IN+ and IN- of the module respectively.
Step 2: Android mobile terminal installation APP''Esp Touch--Demo", for the first use of work mode 2 to ESP-01 module configuration WiFi account number and password.
Step 3: Android mobile terminal to install APP "Easy TCP--20", TCP transmission tool, used to send relay control instructions. Click on "SWITCH", and then enter the 2 relay control instructions and names and contents (instruction form HEX) by the gray blocks in the interface.
PACKAGE INCLUDE:
1 X  ESP8266 ESP-01 WiFi 5V 2 Channel Relay Module Generic
---